About us
Johan Mattisson is 111 Solutions' founder and CEO, the mastermind behind the solutions.
How it all started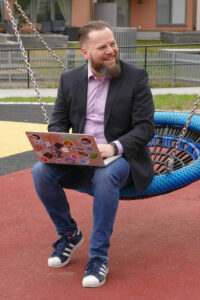 Johan Mattisson comes from Växjö, a university town in the heart of Sweden. He studied to become a programmer and started his career teaching data science and programming in his hometown. Hungry for more exciting challenges, he moved to Stockholm in 2010 and found his path. He thrived in the world of start-ups and broadened his horizons with different employment experiences in larger companies and organizations, in the private and public sectors. 2017 marked a new milestone and the beginning of a new era in Johan's career when he decided to become an entrepreneur. He founded 111 Solutions.
Our philosophy: quality, tailor-made, plural, sustainable solutions open to the future.
111 Solutions was created with the philosophy that there are always more than one solution to a given problem, many ways to explore and that curiosity is something that should be encouraged. 111 Solutions strongly believes in quality way above quantity, and that each business and system is unique. We therefore offer tailor-made, sustainable solutions that will support any future development of your systems. We, at 111 Solutions, are constantly working on developing ourselves to find new ways forward for your projects as well as for ours.
Join us!
If you can relate to our philosophy, please do not hesitate to reach out to us. We will be delighted to hear about you and your ideas over a fika.